While it is undoubtedly true that a criminal must NOT go unpunished, but we are sometimes so disillusioned by what we perceive to be a failure of the justice system that we see ourselves as compelled to take matters into our own hands, can this be permitted in a democratic country?
Mob justice perpetuates a cycle of violence, creates a culture of fear, and rejects personal accountability for violent acts that are committed in the name of justice.
It is a deviation from legitimate social norms and a violation of all the national and international conventions that guarantee the rights to life and fair justice to every human being. Mob justice is a gross act of criminality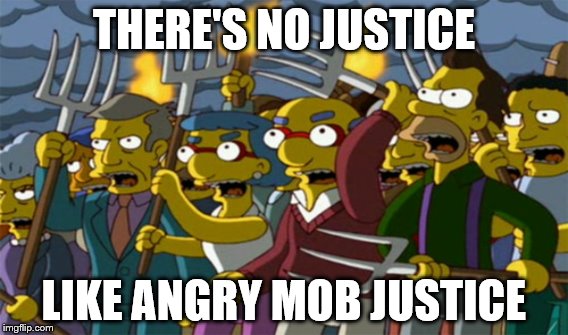 As we continue to toot that justice delayed is justice denied, let us also be conscious of the fact that justice rushed is justice crushed.
The concept of "Rule of Law" is the building block on which the modern democratic society is founded. For the successful functioning of the polity it is imperative that there is enforcement of law.
Laws are made for the welfare of the people to maintain harmony between the conflicting forces in society. One of the prime objects of making laws is to maintain law and order in society and develop a peaceful environment for the progress of the people.
The concept of Rule of Law plays an important role in this process. It provides for two basic concepts that is,  law must be obeyed by the people and that the law must be made in such a way that it is able to guide the behaviour of its subjects.
Equity does not relieve a person of the consequences of his or her own carelessness. A court of equity will not assist a person in extricating himself or herself from the circumstances that he or she has created. Equity will not grant relief from a self-created hardship.
Article 21 of the Indian Constitution reads thus:
"No person shall be deprived of his life or personal liberty except according to a procedure established by law."
According to Bhagwati, J., Article 21 "embodies a constitutional value of supreme importance in a democratic society." Iyer, J., has characterized Article 21 as "the procedural magna carta protective of life and liberty.
This right has been held to be the heart of the Constitution, the most organic and progressive provision in our living constitution, the foundation of our laws.
Everyone is entitled in full equality to a fair and public hearing by an independent and impartial tribunal, in the determination of his rights and obligations and of any criminal charge against him.
~ girlunimpressed